"Everything starts from a dot" |Wassily Kandinsky|

---
This collection is a tribute to abstract art. In particular, it is strongly inspired by the masterpieces of Paul Klee, Wassily Kandinsky and later creations of Robert Delaunay. I like very much the definition of Rudolph Arnheim. He wrote that "abstract art […] uses a visual language of form, color and line to create compositions that may exist with a degree of independence from the real-life pictorial references in the world".
First, I discovered fauvism and was stroke by the explosion of colors. It was a feeling of life and joy, especially with the creations of Henri Matisse and Georges Braque. Then, I researched on this style and became interested in impressionism. This led me to enjoy expressionism and abstract art. I will never forget the first time I saw a painting of Klee and read the remark of Marcel Duchamp thereon. He wrote that "The first reaction in front of a Klee painting is the very pleasant discovery, […] to try drawing like in our childhood. Most of his compositions show at the first glance a plain, naive expression, found in children's drawings. […] At a second analyze one can discover a technique, which takes as a basis a large maturity in thinking". I then used to refer to the complexity in simplicity, the lines of "What is he Missing" (1930) and the face of "Senecio" (1922).
I equally explored the work of Wassily Kandinsky and his analysis in 'Point et ligne sur plan' (1926). But also the creations of "Der Blaue Reiter" group and admired the strong colors and geometric shapes of Robert Delaunay.
In the "Abstract" Collection, helmets are seen as basic curved planes for experimentation and intuitive painting.
---
"BluRed" Helmet
---
| Working hours: 18h | Helmet: LS2 Bobber |
I obtained the colors of this helmet by always blending two primary colors: blue and red. Sometimes, I added a random amount of another color to extend possibilities. I also applied some copper leaves on the helmet. The copper color is traditionally obtained by mixing blue, red and yellow. Therefore, the final creation is only a mix of colors born from the same "parents".
Lines were first drawn by prolonging mentally the shapes of the helmet itself. Intuitively, I painted other lines by listening to Chopin. An experimentation to connect dots under the influence of music.
The name "BluRed" indicates naturally the colors blue and red used in the painting. It also refers to a blurred vision. Indeed, my initial concept was quite different from result.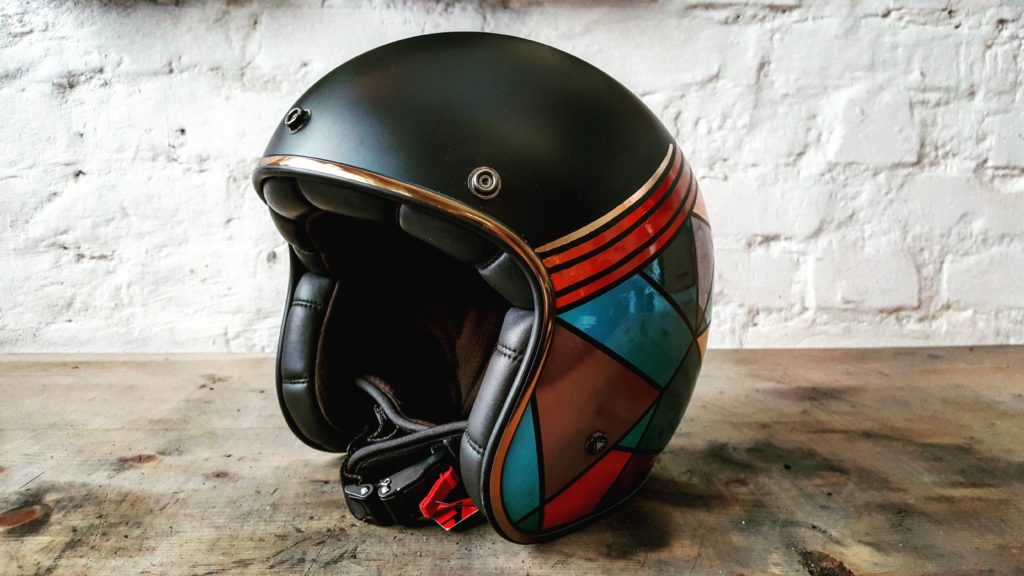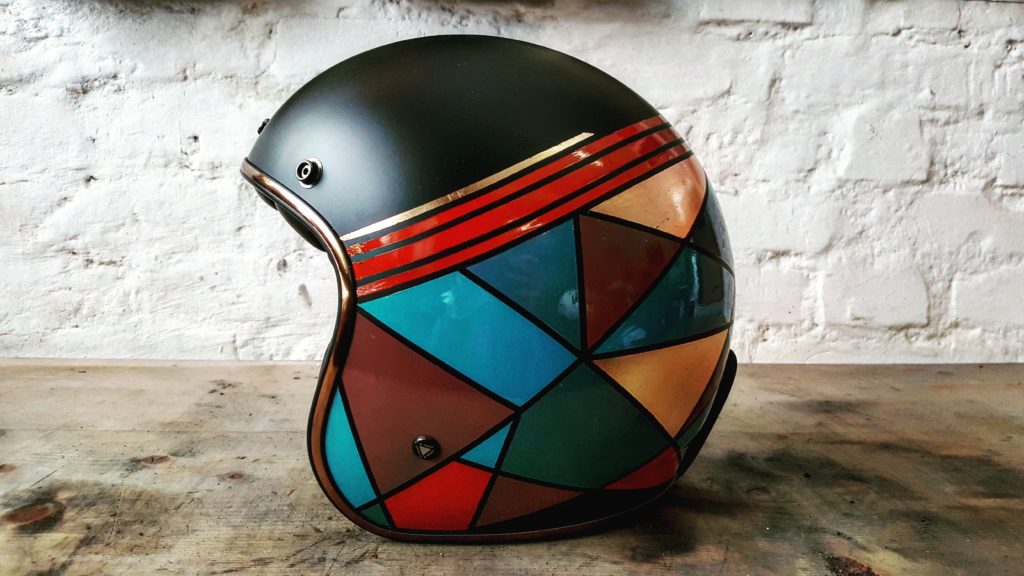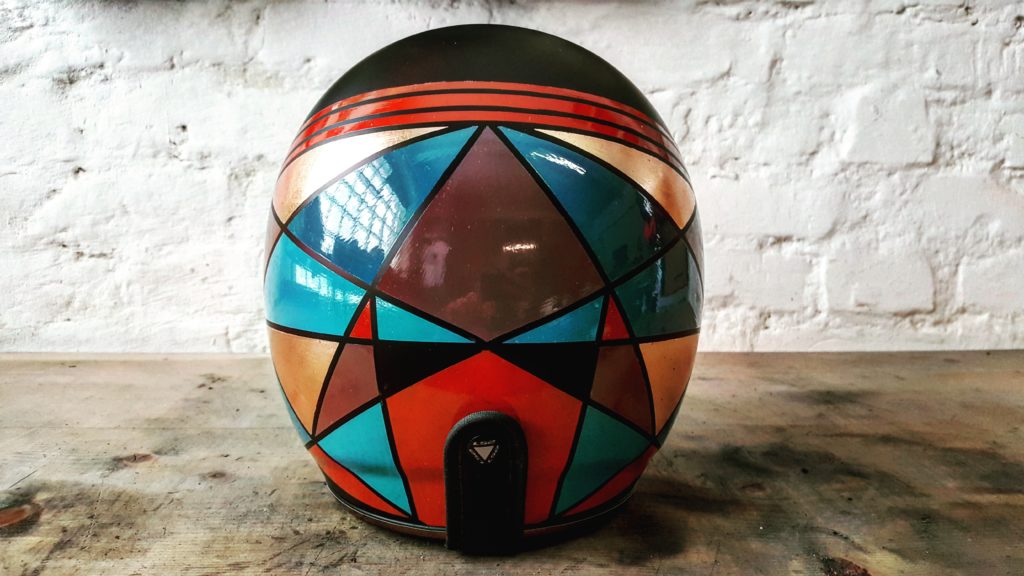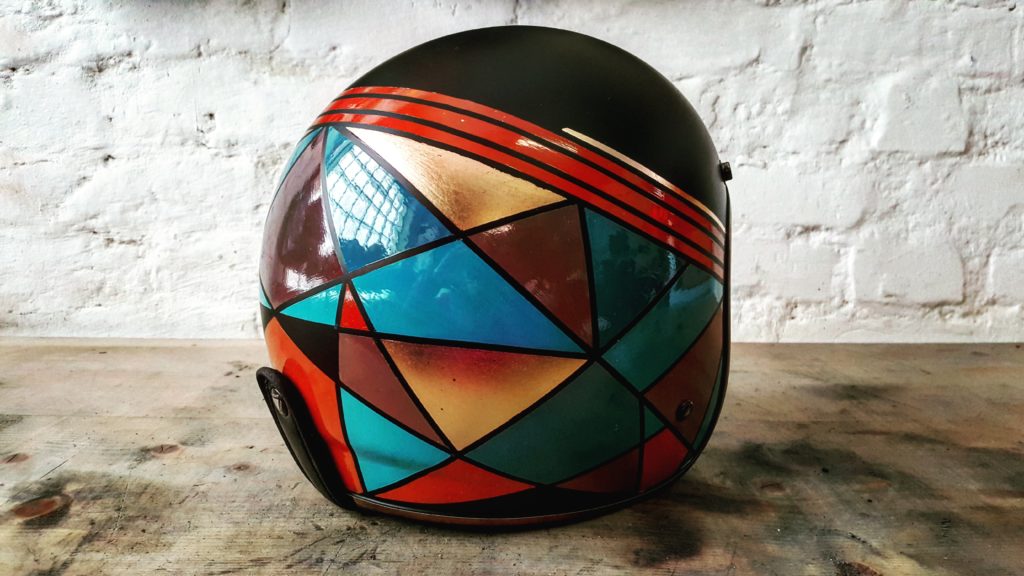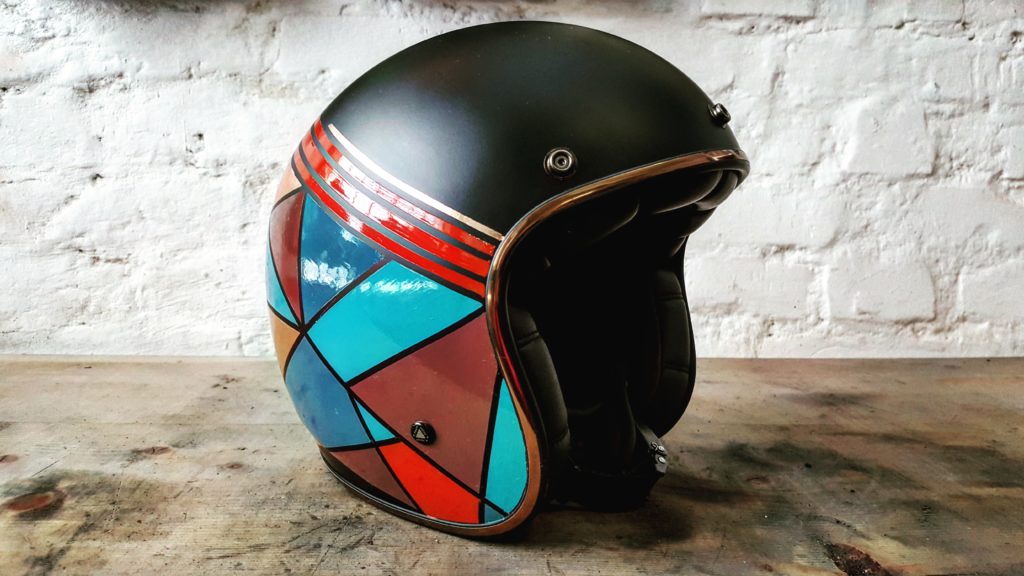 Discover more helmet creations right there! Do you want to customize your helmet? Here is how it works.
---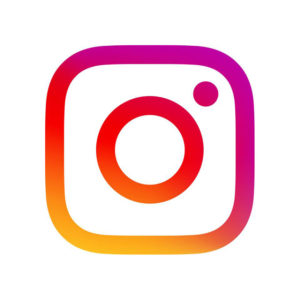 © Jenna Philippe (à-moto) | All rights reserved | Terms and conditions | Privacy